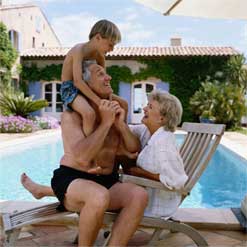 Right from the start, Triton Pool & Spa stands apart from other pool companies. As a truly custom pool builder, we begin each project with a comprehensive survey of your home and property, and an in depth discussion with you about your personal preferences. Using advanced computer technology, we then design a one-of-a-kind pool to fit both your home and lifestyle. We work closely with you to refine this design until it is a true reflection of your taste.

Triton's pool and spa designs incorporate stunning features such as waterfalls, fountains, deck jets and decorative raised planters. We can also incorporate the latest in pool and spa automation controls to make your pool or spa a pleasure to use and maintain. To keep your pool water sparkling clean and purified, we use only the highest quality Diatomaceous Earth (DE) filters, pumps, chlorinators and/or salt chlorine generating equipment – the most efficient, effective and durable technologies available.

All materials and finishes that go into your Triton pool are the industry's finest, including top-of-the-line coping and tile, deck pavers, stainless steel light fixtures and high performance pumps and motors. To top it off you'll select from innovative interior pool finishes such as KrystalKrete, Diamond Bright, Crystal Stone and Hydrazzo.